Chemical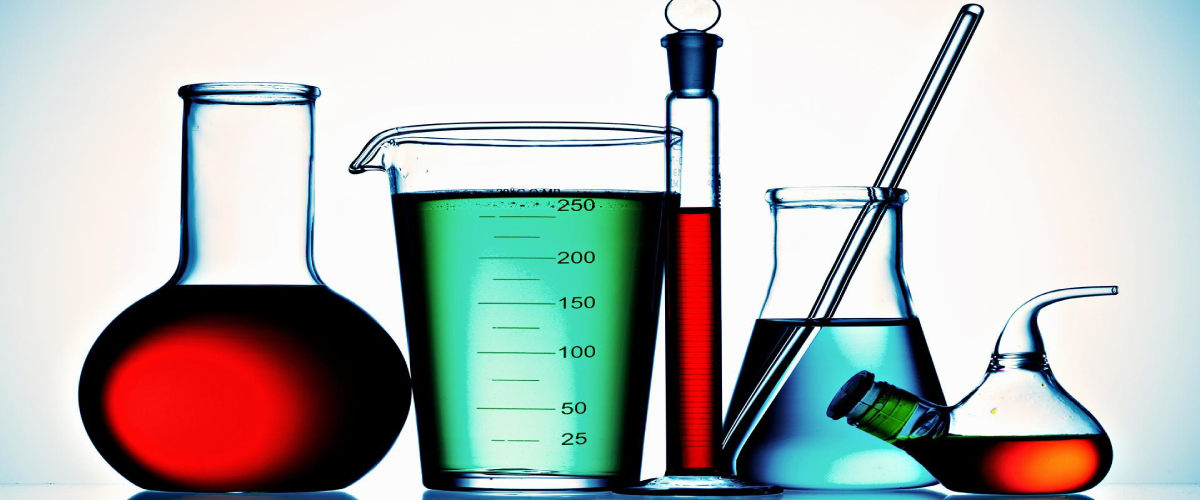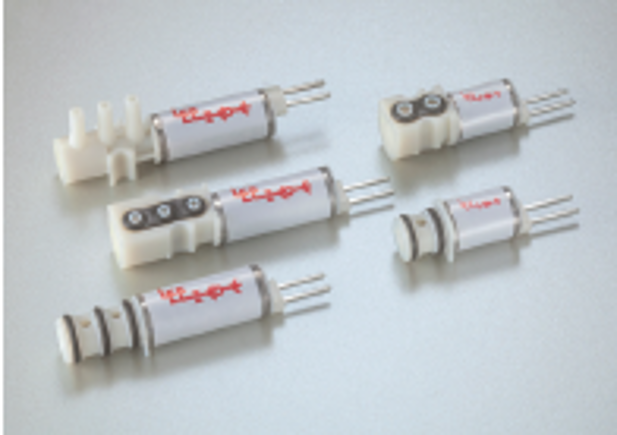 Flow Control Solenoid Valve
The Flowcontrol Solenoid Valve consists of compact, lightweight solenoid valves with low internal volume. Available in 2-Port or 3-Port designs, and in several mounting styles, these valves are easily manifold mounted, making them the perfect solution for applications where a large number of valves must be designed into the smallest space possible. These valves are generally used in oxygen delivery systems, gas analysis equipment, patient monitors, air calibration devices, ventilators, gas chromatography and dialysis machines.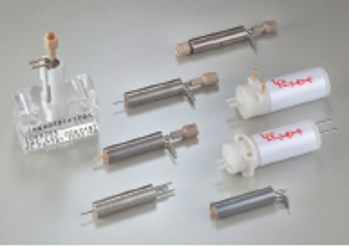 Dispensing Solenoid Valve
The Dispensing solenoid valves are designed for high speed applications requiring precise dispense volumes in the microliter to nanoliter range. These valves are generally used in medical and scientific applications, in markets such as high throughput screening, drug discovery, in vitro diagnostics, human genomics and biotechnology.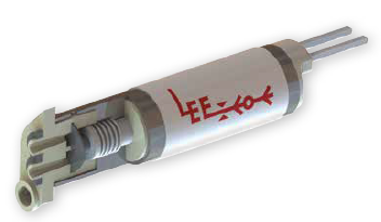 Isolation Solenoid Valve
The Isolation solenoid valves are chemically inert, isolation style valves with zero dead volume. Available in a 2-way normally closed model, the valves are rated for bidirectional flow and use a contoured internal flow path design that allows for complete flushing capability. This contoured flow path also minimizes damage to any sensitive fluids passing through the valve. The low internal volume reduces the amount of fluid required to fill the system (otherwise known as transport volume), further reducing the sample and reagent requirements.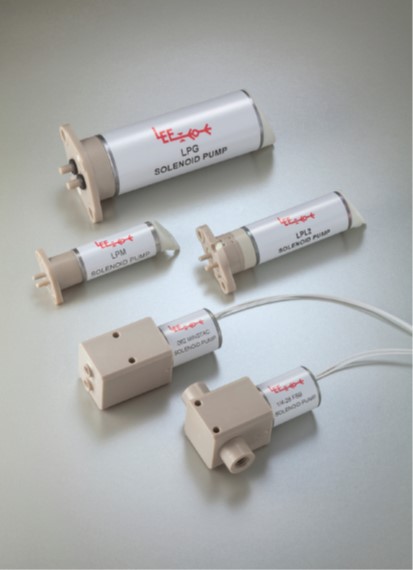 Fixed Volume Pump
The Lee Company's Fixed Volume Dispense Pumps are solenoid driven, chemically inert, positive displacement pumps, which provide accurate and repeatable dispense volumes in a small lightweight package. Requiring a simple square wave electrical signal for operation, the pumps aspirate fluid when energized and dispense fluid when de-energized. The normally closed design with integrated check valves prevents siphoning when the pumps are de-energized.
Lee fixed volume dispense pumps are available in three different sizes to cover a wide range of dispense volumes:
LPM Series: 10 to 25 µL LPL Series: 25 to 50 µL LPM Series: LPG Series: 100 to 175 µL

Variable Volume Pump





The Lee Company's Variable Volume Dispense Pumps are stepper motor driven, positive displacement pumps that feature unparalleled reliability and performance. Their size, weight and maintenance free design allows for the pumps to be positioned where the fluidic requirements dictate, regardless of accessibility.

Manifold Tubing Accersories

Manifold : The Lee Company Electro-Fluidic Systems Division has been an industry leader in electromechanical valve and pump technology for over three decades. Manifolds offer several advantages compared to just tubing together discrete components, such as fewer leakage points, lower internal volumes, easier assembly into the instrument, and higher reliability.

Tubing: MINSTAC, The Lee Company's Miniature Inert System of Tubing and Components, offers the ability to precisely control flow rate, pressure, filtration and other performance factors of aggressive fluids. The basis of the Lee MINSTAC System is the unique Collet-Lock system, which allows the chamfering of PTFE tubing, and threading a specially designed Collet onto its end. This assembly provides a leak-proof connection from PTFE tubing to the wide range of MINSTAC components and fittings, all without the problems associated with the cold flow characteristics of PTFE.

IEP Solenoid Valve Series

The IEP Series solenoid valves are designed for applications requiring extended performance. Available as a 2-way normally closed design, these valves are capable of operating across a wide range of pressure and temperature without sacrificing size. These valves are typically used in applications such as scanning electron microscopes, CubeSat propulsion, precision combustion systems, oil well analyzers and cryogenic surgery devices.

The following general performance characteristics are offered in this product platform:

Low Internal Volume
Operating Pressures up to 800 psig
Operating Temperatures up to 275°F (135°C)
Response Time as Fast as 0.5 ms
Spike and Hold Drive Required
Lohm Rate: 4100
Available Elastomers: EPDM, FKM and FFKM





IMH Chek Valve

The IMH Chek™ is a threadless, cartridge-style insert designed for simple, low cost installation into manifolds, and is based on the same hard seat Lee Chek® designs used in flight control systems of almost every aircraft flying today. A robust design and 100% testing ensures consistent, longterm performance up to 28 MPa (4060 psid) and 149°C (300°F) or higher depending on specific application requirements.

IMH Relief Valve

IMH Relief Valves are designed to protect systems from over pressurization or to attenuate pressure spikes. These valves are not suited for upstream pressure regulation. As with the IMH Chek, the relief valve is a threadless, cartridge style insert designed for simple, low cost installation into manifolds, in the most compact package available anywhere. A high quality, metal-to-metal seat provides long life and extremely low leakage, as well as compatibility with a wide range of fluids. The Relief Valve is available in a 5.5mm size and an 8.0mm for more flow.

IMH Orifices

IMH Orifices are economical, reliable, highly accurate miniature restrictors. These orifices are 100% flow tested to ensure that every part is within ± 5% of its nominal flow rate. Tighter flow tolerances are available as specials. Tight flow tolerances are only possible if entrance and exit conditions are closely controlled. This provides far more accuracy than an orifice specified by hole tolerance. An ordinary hole held to a very tight hole tolerance will not result in a tight flow tolerance. IMH orifices are so consistent because they are produced in high volume by automated processes. Installation is simple using the field proven controlled expansion principle which provides retention up to 21 mPa (3,045 psid) and creates a leak tight seal

IMH Restrictor

Restrictor checks are functionally an orifice in series with a check valve, all in one package. IMH Restrictor Checks are the same size as their equivalent check valves. These valves come in forward and reverse flow directions and incorporate a screen of an appropriate filtration size for orifice diameters below 0.5mm (0.020″).

IMH Flow Control Valve

Flow Controls are functionally an orifice in parallel with a check valve — all in one package. IMH Flow Controls are the same size as the equivalent IMH check valve. Flow Controls are available in two diameters; 5.5mm and 8.0mm.

The 5.5mm version covers lohm rates from 2,000 lohms [0.5mm (0.020″)] to 10,000 lohms [0.22mm (0.009″)] equivalent orifice diameters.

The 8.0mm Flow Control covers 500 lohms [0.99mm (0.039″)] to 2,000 lohms [0.5mm (0.020″)] equivalent orifice diameters. Both sizes are available in forward and reverse configurations.

IMH Shuttle Valve

IMH Orifices are economical, reliable, highly accurate miniature restrictors. These orifices are 100% flow tested to ensure that every part is within ± 5% of its nominal flow rate. Tighter flow tolerances are available as specials. Tight flow tolerances are only possible if entrance and exit conditions are closely controlled. This provides far more accuracy than an orifice specified by hole tolerance. An ordinary hole held to a very tight hole tolerance will not result in a tight flow tolerance. IMH orifices are so consistent because they are produced in high volume by automated processes. Installation is simple using the field proven controlled expansion principle which provides retention up to 21 mPa (3,045 psid) and creates a leak tight seal

IMH Safety Screens

IMH Screens are "last chance" safety screens designed to protect critical fluid control components against rogue contamination. They are not intended to serve as system filters. The screens are constructed of stainless steel woven wire mesh, bonded together using a proprietary process that offers superior integrity and life. IMH Screens are available in Insert or Cartridge styles. Insert Screens feature an integral locking end, while Cartridge Screens are designed to be retained by the customer, or for 5.5 and 8mm sizes, retained by a separate locking end.

IMH Betaplugs

The Lee Betaplug is a pre-assembled, one-piece, tapered expansion plug specifically engineered to seal fluid passages in metal castings and plastic housings leak-tight, without the use of threads or sealants. Controlled expansion during installation causes the lands and grooves on the O.D. of the plug body to bite into the wall of the fluid passage, creating a leak-tight seal and assuring retention. The unique tapered design eliminates the need for tight manufacturing tolerances, and allows the designer to minimize the wall thickness required around the plug, even for brittle housing materials

High Purity Gas Control Equipment

In the field of High Purity Gas Control Equipments we provide high purity pressure gas regulators and equipments which work in the purity range of upto 6.0 (ie 99.9999 vol% purity) with automated purge gas system for corrosivve gases and gas mixtures.

Cylinder pressure regulator

Cylinder Stations PN 200/300 bar
Line Pressure regulator
Point use regulator
Diaphragm dosage and shut-off valves
Point use systems for cartridge pressure regulators


Industrial Gas Control Equipment

In the field of Industrial pressure gas technology, we provide fittings for technical gases which includes types of pressure regulators and various gas technology equipments. Our strength is the production of complex pressure regulators including the leak test with a test certificate. In addition to standard devices in many variants, we also provide customized equipments according to your wishes.

Central Gas supply

Point Use Stations
Cylinder pressure Regulators 30bar to 400bar
Cylinder pressure regulators up to 16bar
Line Pressure regulator Dome pressure regulator
Precision pressure regulator
Shut off and dosage valves
Wall mounting brackets